Elegant Glass Rooms
Enjoy outdoor living always available with a frameless clear view of your garden.
Our glass garden rooms are beautifully functional feeling rich in light and space. Protected from above and from the sides, even if it has been raining you can still enjoy and virtually be in the garden!
Glass Garden Rooms
Clear View Of Your Garden
Garden Glass Rooms offer all of the Alfresco benefits of open Verandas but raised to another level – with combinations of frameless fixed side glazing and slide away glass doors.
Protected from above and from the sides, designed using maximum glazing – minimum profiles, our glass garden rooms beautifully screen off rain or wind, allowing you to enjoy your garden whatever the weather.
Elegant garden glass rooms maintain a real sense of being outdoors, a quality environment that feels rich in light, keeping a clear open view of your garden. Elegant's glass rooms give a feeling of space without boundaries – outside yet well protected.
Expect the best
Pinnacle of Good Engineering
We offer Glass Rooms built to the highest manufacturing standards. We use only the finest materials so that you can ensure the very best for your home.
Precision engineered, from high grade, powder coated, extruded aluminium with parts of stainless steel, our quality garden rooms remain rust free and virtually maintenance free adding living space and value to your property.
Individually CAD designed to fit your home and garden perfectly, then craftsman installed, these stunning garden rooms are as uniquely beautiful as they are resilient.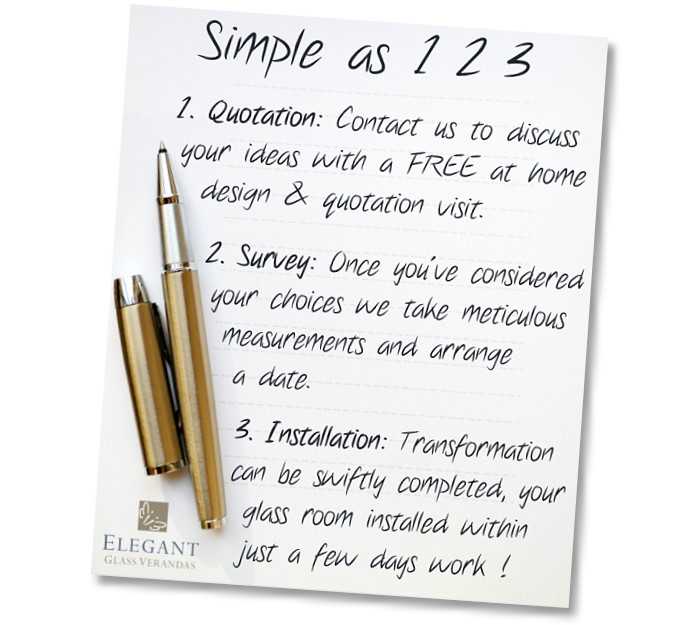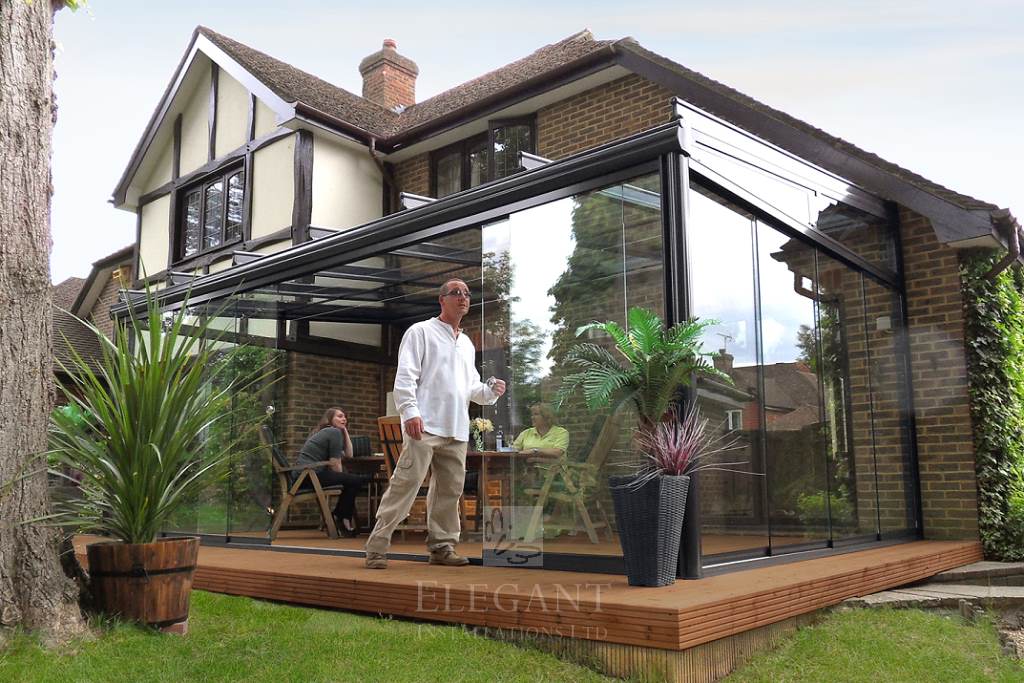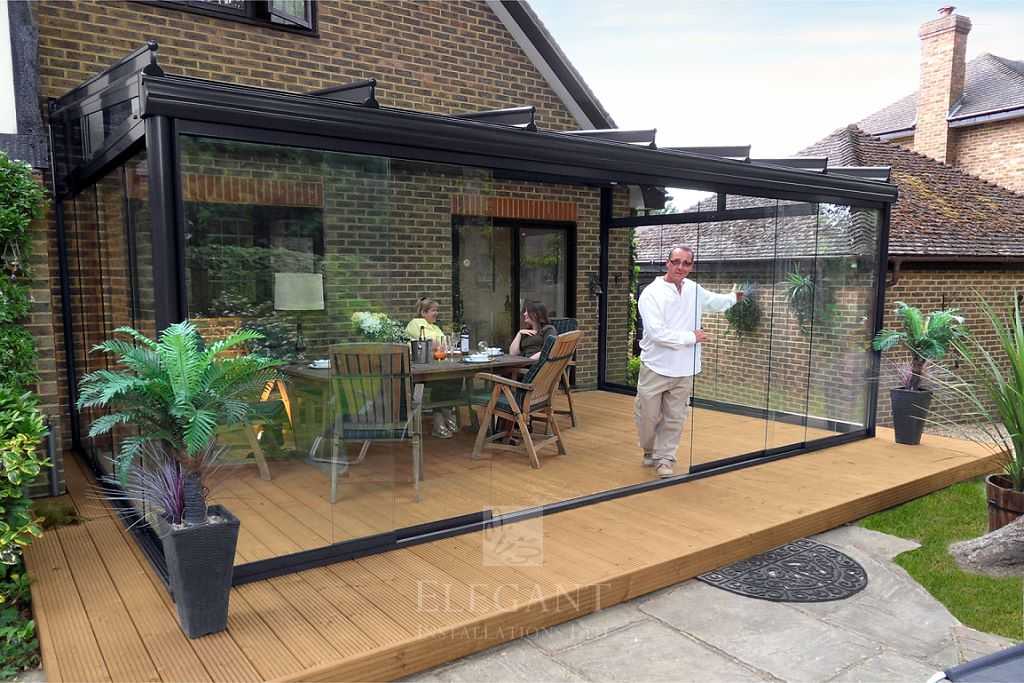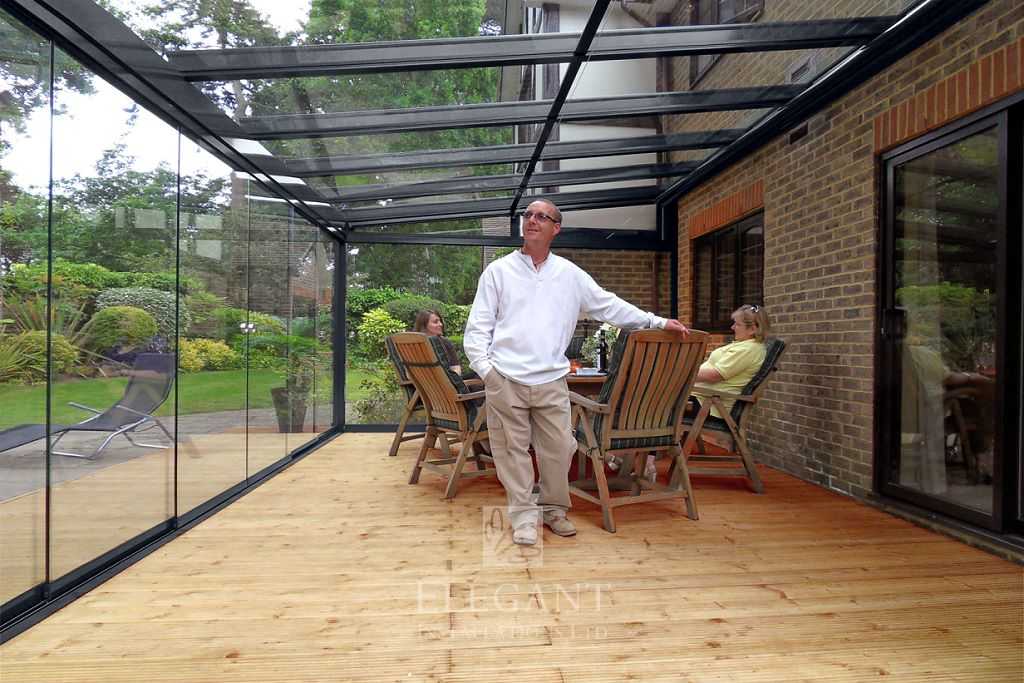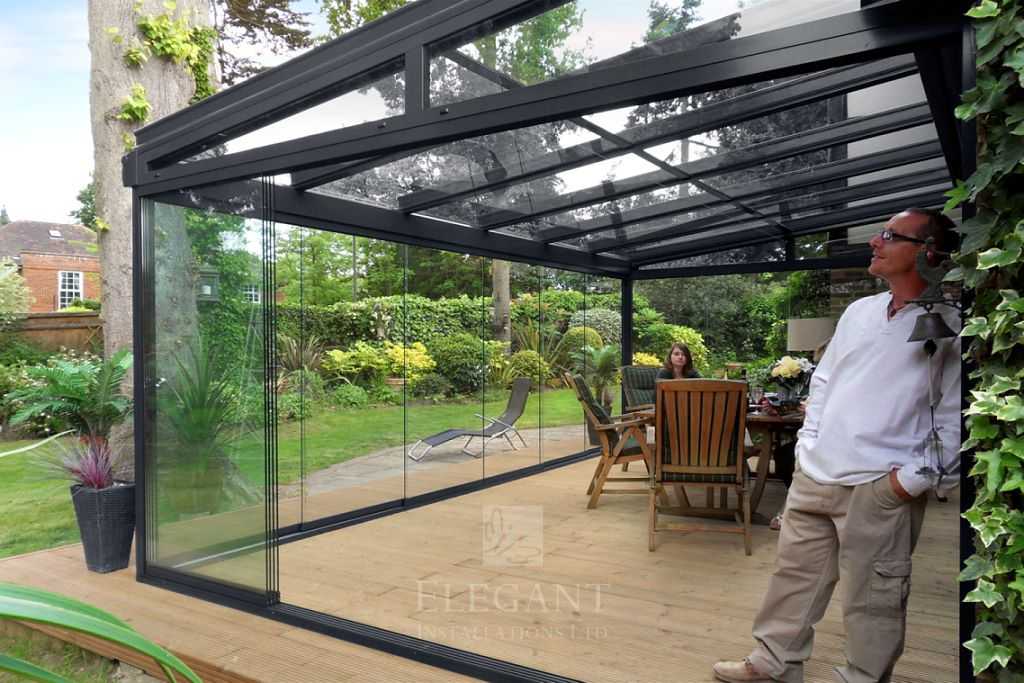 Bespoke Design Glass Rooms
Making A Garden The Best Room
Elegant Glass Rooms allow you to design a unique outdoor living space exactly as you desire. Take advantage of almost limitless combinations in door configurations, side walls, leg post locations and opening access points.
Once you've selected a room design you can consider Elegant's wide range of accessory features including remote-control lights, InfraRed quartz heating, roof air vents, built-in blinds as well as vertical sun or privacy screens.
At Elegant we believe that it should all be designed around you. With over 150 frame colours possible our bespoke glass garden rooms can fulfil your design dreams.
Elegant Glass Rooms UK
Why Choose Us
Would you like more examples of our Glass Garden Rooms?
Our portfolio gallery showcases 45 example photographs of Elegant installations to customers gardens, helping you imagine the perfect glass garden room for your home.
Not a Conservatory
It's About Outdoor Living
Make no mistake, our glass garden rooms are not intended as a conservatory. Double glazed conservatories will typically add another room inside the house, for customers looking to increase internal room. As such they will legitimately benefit and appeal to some, but to others can be seen as an inexpensive (dare some say 'plastic') extension.
Glass Garden Rooms are not about being inside the house or surrounded by window frames. Our rooms are about outdoor living, a modern 'inside-outside' space – feeling fully connected with the garden. Which is best? Well some of our customers enjoy both.
Customers point out the appeal of our premium engineered product and also its Elegant simplicity come installation. Our garden rooms involve none of the expected building work disturbances of a conservatory, no trench digging, pipe moving or wall foundations. These modular rooms can be cleanly fitted within just a few days without digging up your patio or garden.
CREATE YOUR PERFECT ENVIRONMENT
Testimonials
Recent Client Reviews
Excellent product and all round service right through to installation. We are very delighted with the end result. Thank you all at Elegant.
J Campbell / West Sussex
Our experience with Elegant has been positive from beginning to end. Pleasant installers who cleared up everything and left the patio as before they started.
J Johnson / Berkshire