Elegant Glass Verandas
Transform your patio for Alfresco living and enjoy more from your garden.
Imagine this fabulous new concept in outdoor living, a modern 'inside-outside' space connecting house and garden. A Glass Veranda adds a new dimension to your home, a unique Alfresco space always available.
Bespoke Glass Verandas
Quality Patio Roof Canopies
Glass Verandas offer a unique extension to home lifestyle, a dream patio roof to enjoy whatever the weather.
Individually CAD designed, this added feature to your property helps you to enjoy your garden as never before. An aluminium patio roof, it covers your patio seating area creating a protected environment perfect for year round outdoor living.
Our quality verandas not only enhance the look of your home, they provide a more accommodating outdoor space where problems of furniture covers no longer exist. Always in the dry – even if it has been raining you can still enjoy and virtually be in the garden.
Beating the British Weather
To Enjoy Your Garden More
We all look forward to summer days spent relaxing and enjoying the garden. With a Glass Veranda from Elegant you can make the best of the British summer.
Plan barbecues without fear of rain, our verandas bring the inside outside to make your garden the best room of the house.
Enjoy outdoor space always available. Spending time below your veranda while rain showers fall can make you feel that you've beaten the British weather and can extend your summer.
DID YOU KNOW?
This investment in your home and lifestyle can add value to your property too. Just as with any home improvement, such as garden landscaping or extensions, estate agents can rate a quality Glass Veranda as a valuable added feature.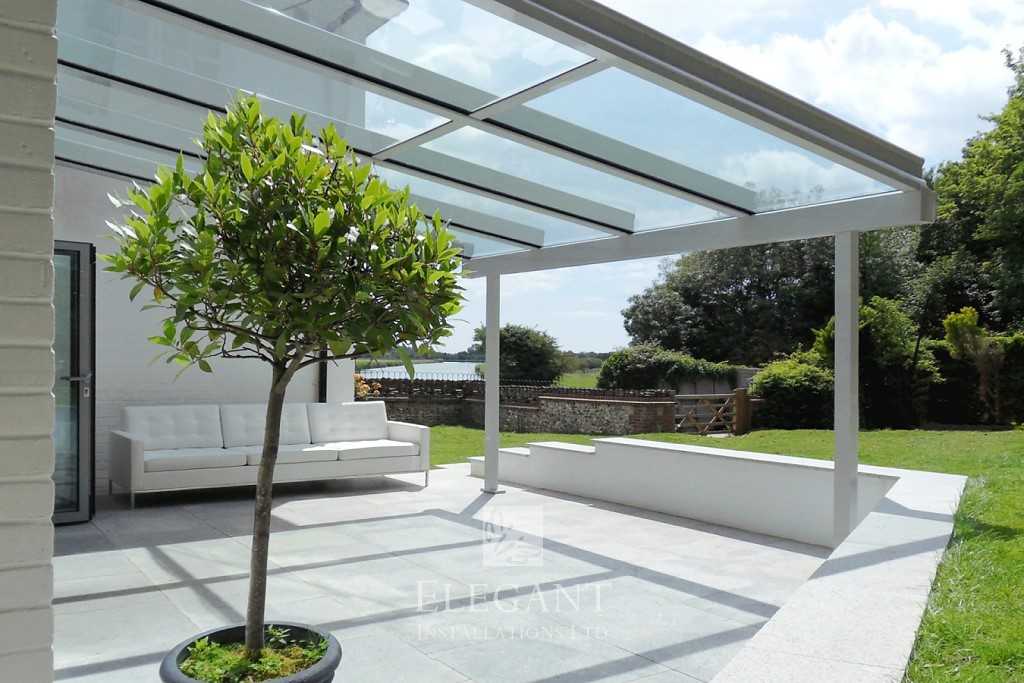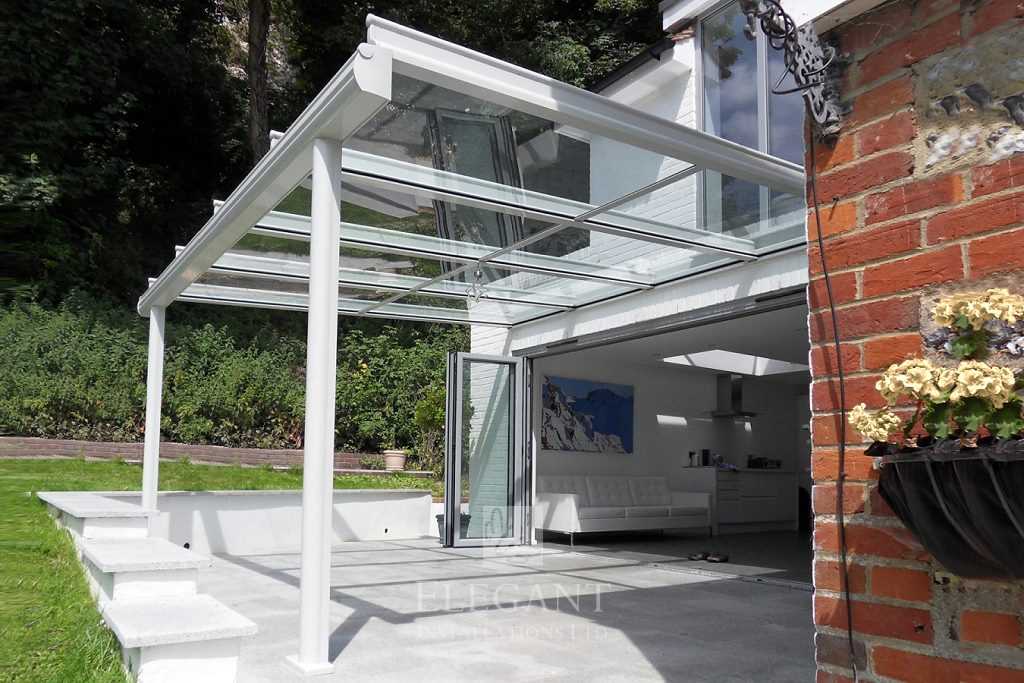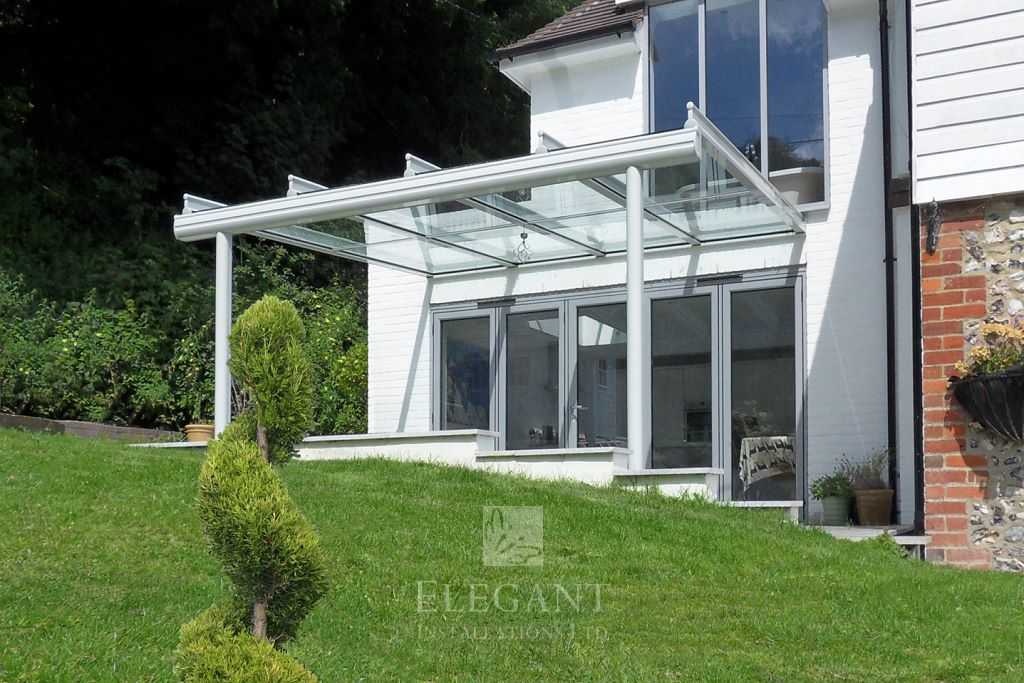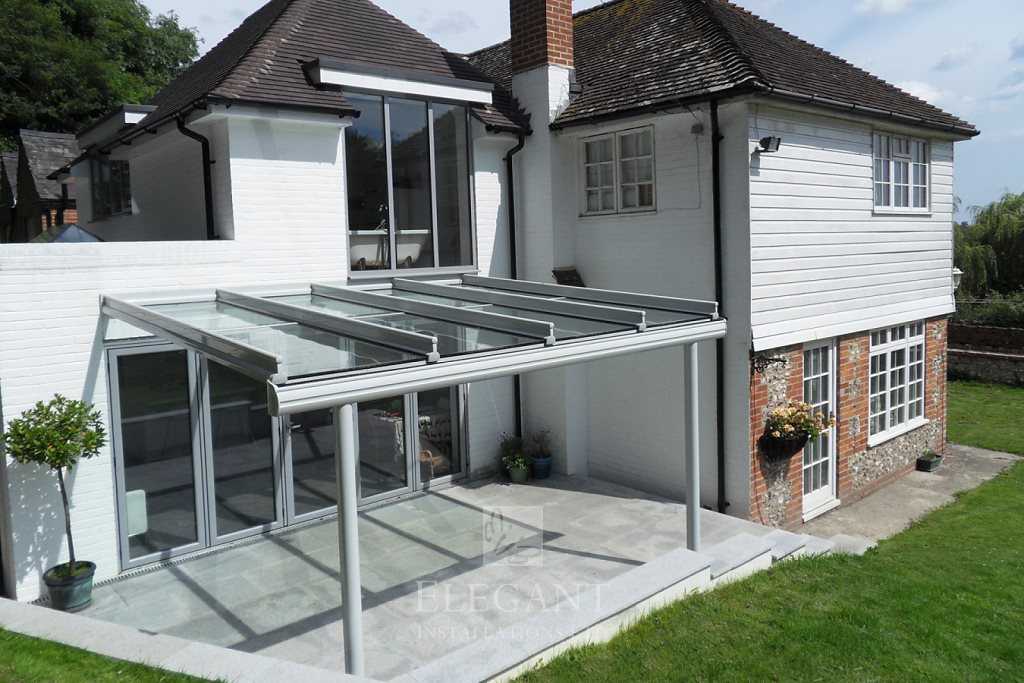 Glass Verandas add Space
A New Dimension To Home Life
Combining beauty and functionality, adding living space and grace, a Glass Veranda from Elegant helps you to indulge in an outdoor lifestyle all year round with confidence.
Perfect for entertaining, come rain or shine, guests can experience the patio regardless of weather – meaning you'll always have the perfect excuse and party-piece to Alfresco with family or friends.
Adding a new dimension to home, come rain or shine, plus added space to relax with a clear open view of your garden, our bespoke verandas give you more options for how you can enjoy your time at home.
Elegant Glass Verandas UK
Expect The Best
Would you like more examples of our Glass Verandas?
Our portfolio gallery showcases 45 example photographs of our own veranda installations to customers gardens, helping you imagine the perfect veranda for your home.
Clear Upgrade to Alternatives
Protected Flooded With Light
Elegant verandas offer the ultimate in outdoor living. Unlike patio awnings which need retracting from wind & weather, a glass veranda offers permanent protection meaning that patio furniture won't be wet or dirty when you come to enjoy it. Adjoining rooms are not cast into darkness and the patio retains an open feeling of light and space.
Our verandas often replace previous customer solutions such as free-standing fabric pergolas or weathering wooden structures. They are seen as an upgrade to mechanical louvered patio roof products, replacing them with a more Elegant glazed solution.
CREATE YOUR PERFECT ENVIRONMENT
Testimonials
RECENT CLIENT REVIEWS
Great all round job of the veranda. Your installers take care to do the installation as near perfect as possible.
K George / Hampshire
Very pleased with both the veranda product and the workmanship during installation. Very professional and pleasant team.
S Dunnachie / Hertfordshire