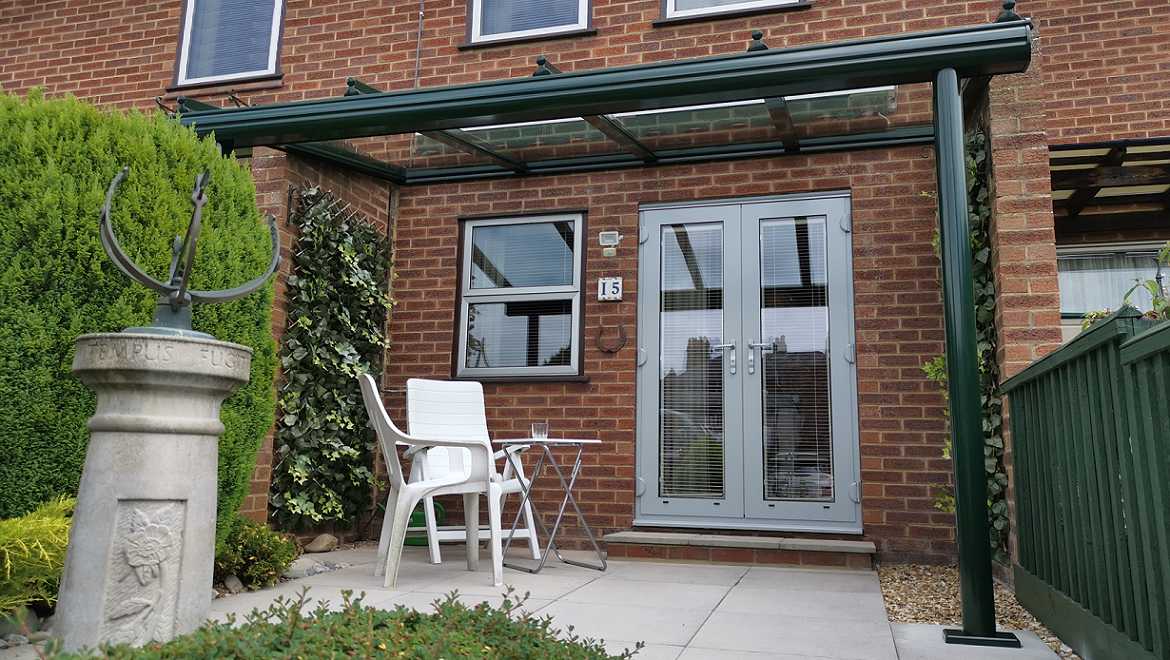 Glass Veranda in Salisbury
Mrs C. in Salisbury got in touch wanting to upgrade her patio awning to a glass veranda, like her neighbours across the road, but wishing to keep the use of her existing awning too.
Our lady customer in Salisbury had been happy with her sun awning for several years, it had served her well, but it fell short come less clement weather and it didn't give the permanent cover Mrs. C. now desired. When one of her neighbours benefited from installing a glass veranda Mrs C. realised the way forward and how a veranda could be a better option – awnings are great but can have their limitations during the four seasons of our weather.
We visited her lovely home, and what a fantastic location, her patio enjoyed a close view of the magnificent Salisbury cathedral spire standing 123 meters tall (404 feet) it dominating the landscape since construction in the 14th century. Mrs C. had a beautiful little garden which she enjoyed very much. Green was to be the theme following on from her awning fabric colour and so our Forest Green framework was chosen for the veranda.
One key factor was that Mrs C. wanted to keep her patio awning too, in order not to be wasteful, and in respect of the several years of fine service it had payed. And so our installers, Paul and Luke, free of charge reinstalled the customer's awning higher up over the glass veranda, to give shade and sun protection whenever required. You can see the awning just visible in the photo above, above the glass. Paul & Luke then also gave her neighbours veranda a full wash and clean in way of a thank you  – such good guys. Thanks.
To achieve something like this for you Contact Us today.