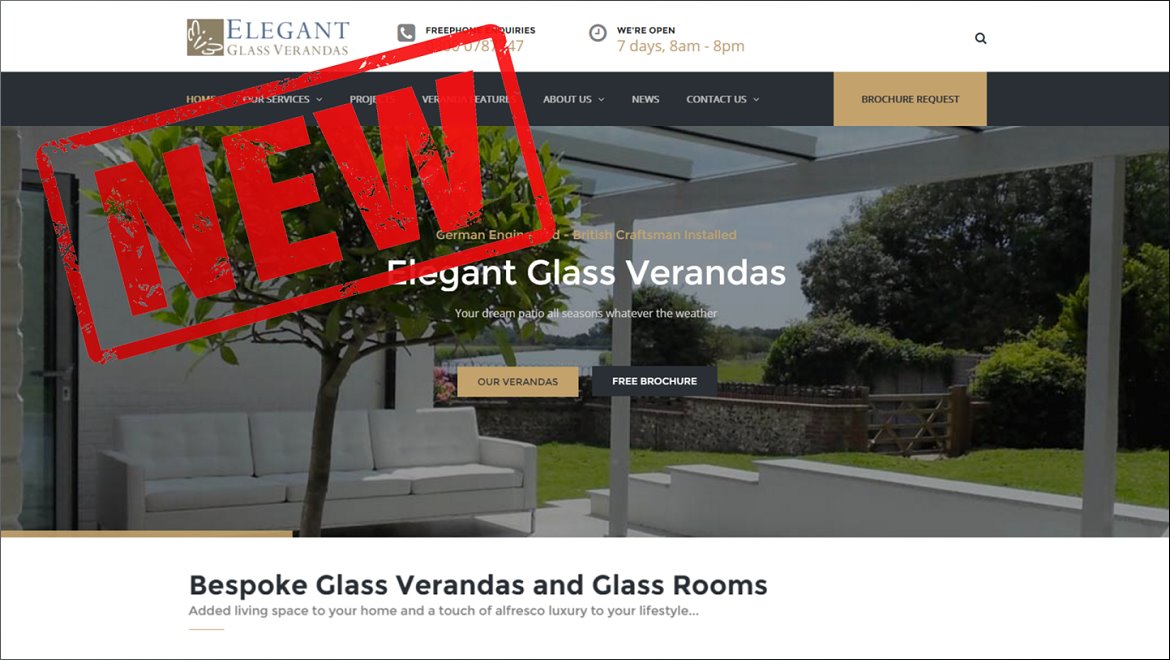 Redesign of our Website + News Blog!
Having helped spearhead the UK veranda market from its very beginning it was high time to redesign our old website – complete with a news blog keeping customers updated!
Our refreshed website shows a more contemporary look in keeping with the premium quality of our products and brand. Not just about looks, consumer technology was key factor too. The world of the internet has changed since our beginnings, when Nokia phones were still prevalent, and who would have thought, from those early iPhone3's, that today we'd all be using pocket devices as the first step to investigate products and services. In a nutshell, we wanted our new glass-verandas.co.uk to look equally as good, and to prove equally as functional, whether viewed on a smartphone or on your desktop computer.
Research included asking past customers a little consumer feedback; what they'd most enjoyed seeing when investigating, what types of information had benefited them, and the process by which they felt most comfortable dealing with enquiries. One of the most repeatedly popular responses was how customers liked to see our work, see our own glass verandas installed on customers homes clearly here in the UK. European, industry stock photos, repeated and widely used on various websites and brochures, didn't impress or reassure, because they didn't tell much about the calibre of an individual company or show the finishing of their installers.
Customers also pointed out that, how by showing many photographs, it follows that the company must be proud of what they produce, and shows that we've clearly kept a continuing good relationship with our customers happily conducive to granting photography. Taking these points onboard we've ensured that our redesigned website showcases many examples of our verandas installed, all entirely our own work, Elegant Glass Verandas and Glass Rooms fitted to a wide variety of our customers homes – plus multiple YouTube project movies showing before and after results.
Our favourite added feature is this exciting "News Blog" with which we hope to stay better connected to our web presence. Here we'll be posting fresh and interesting content, keeping our customers updated – keeping you up to speed with our glass verandas world.
The stylish new design was the inspiration of David Bell at Web Marketing Matters, online marketing consultants, creative web designers and social media gurus.