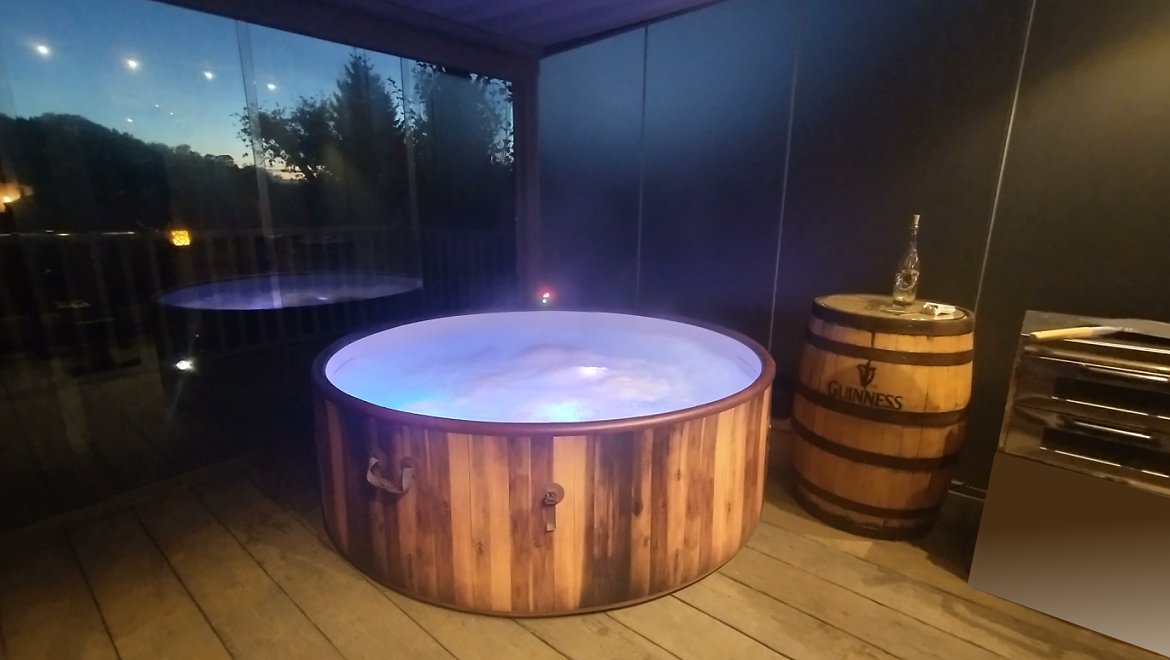 Indoor Hot Tub Glass Room
With Autumn fast approaching, let's look at some of the lifestyle ideas of how an Elegant Glass Room can help make continued enjoyment of your outdoor space throughout winter.
At Elegant we've noticed more and more customers looking to use their covered space in creative and practical ways, including a growing demand for incorporating hot tubs, fitness equipment, telescopes and even pizza ovens. Especially during lock-down, many customers have looked beyond the obvious Alfresco dining possibilities of Verandas and Glass Rooms, to create a multi-use home environment – one which satisfies many purposes improving leisure time at home.
While a rigid 'Jacuzzi' style hot tub requires substantial installation, inflatable mini-spa's can provide the same temperatures of water and are easier to incorporate into existing Glass Rooms. The model shown in our photo is a Lay-Z-Spa Helsinki, which has a unique thin-wall design, large 1120L capacity, 180 bubble jets and Freeze Shield™ technology for use all year. At around £600 – £700 Helsinki is among the higher costing options, but various home stores can be found selling other inflatable models at almost half that price.
Our example shown above sits on a composite decking floor, which has been suitably reinforced for the weight of water. Turning this stunning glass room into a wintergarden spa gives more options for how the terrace can be enjoyed out of summer, relaxing in hot spring luxury, comfortably protected from wind and rain behind glass. Inflatable spa's can easily be relocated, or even packed away for periods, allowing your outdoor space to stay flexible – 'ringing the changes' to keep life at home interesting.
Contact us to find out more about achieving this for your home, at Elegant we have a wealth of experience and advice we can offer building this option into your glass room lifestyle.