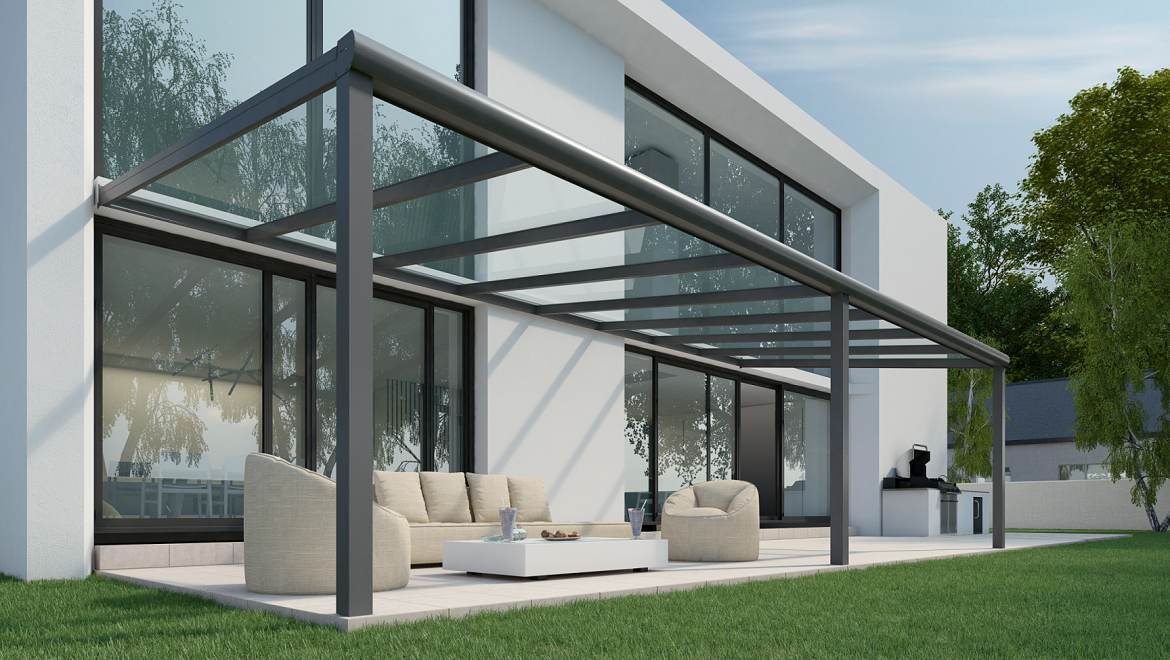 New Glaslux Glass Room Info
Our latest glass room system is launched and looking good, with contemporary square leg posts and clean angular design our new Glaslux model is well made giving everything you need.
2020 sees this fabulous product added to our portfolio as a quality mid range offering. Glaslux glass room system is well engineered and capable of impressive 12m widths, with up to 4m outward projection sizes. With modern angular design, premium features include hidden rain drainage (piped down inside the legs) and a choice of angled or curved front support profiles. In our line up of quality offerings, the new Glaslux sits between our Glasdach or Moderna premium models and our Midi high value system. Glaslux gives you dependable quality with full features:
Contemporary angular design.
Custom made to order, to size.
High-grade extruded aluminium.
Premium powder-coated finish.
10 framework colours.
Internal hidden rain drainage.
Up to 12m width (spanning the grandest terrace).
Up to 4m generous outward projection size.
Modular design it can be added to later.
Optional remote control spotlights.
Optional quartz infra-red heating.
Optional vertical zip screens.
Options on internal sun blinds.
Options on external sun awning.
Options on "Framed" side glazing.
Options on "Frameless" side glazing.
Options on sliding-doors side glazing.
Premium "Roller-Track" glass door system.
Draught excluder brush strips for door edges.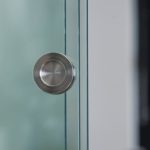 The Roller-Track glass door system is a quality door set with easy-glide movement, stainless steel wheels and bearings, sturdy aluminium floor track and stainless steel cup handles built into the glass. Made to order up to 6m wide with custom door heights up to 2.5m. The door edges can have optional draught excluder strips for the winter season. Get a personalised quote.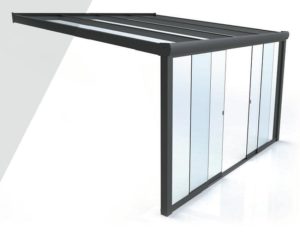 Frameless side glazing offers a clear open view unhindered by mullion framework. The focal point of the eyes no longer stalls at any central framework but instead travels beyond the glass, coming to rest on scenery down your garden. Frameless glass sides can give a real sense of being outdoors, the feeling that you are virtually in the garden.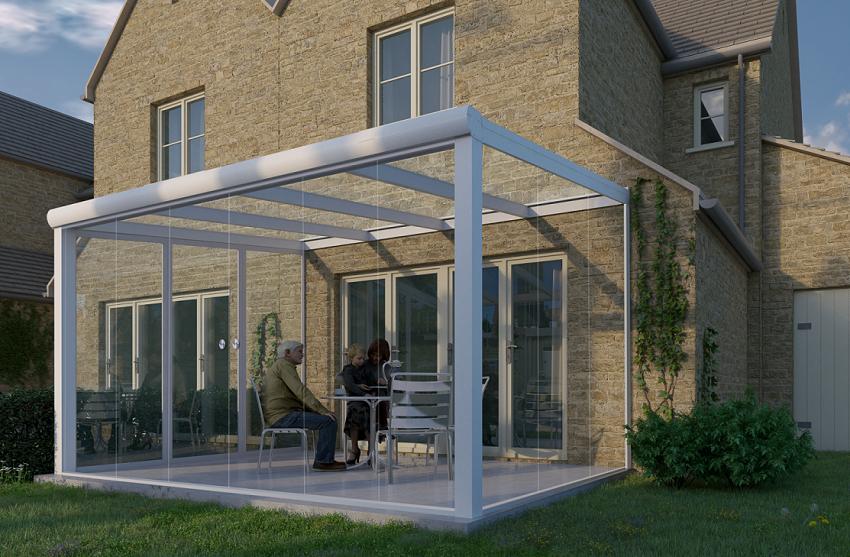 For more information enquire today or request a brochure.