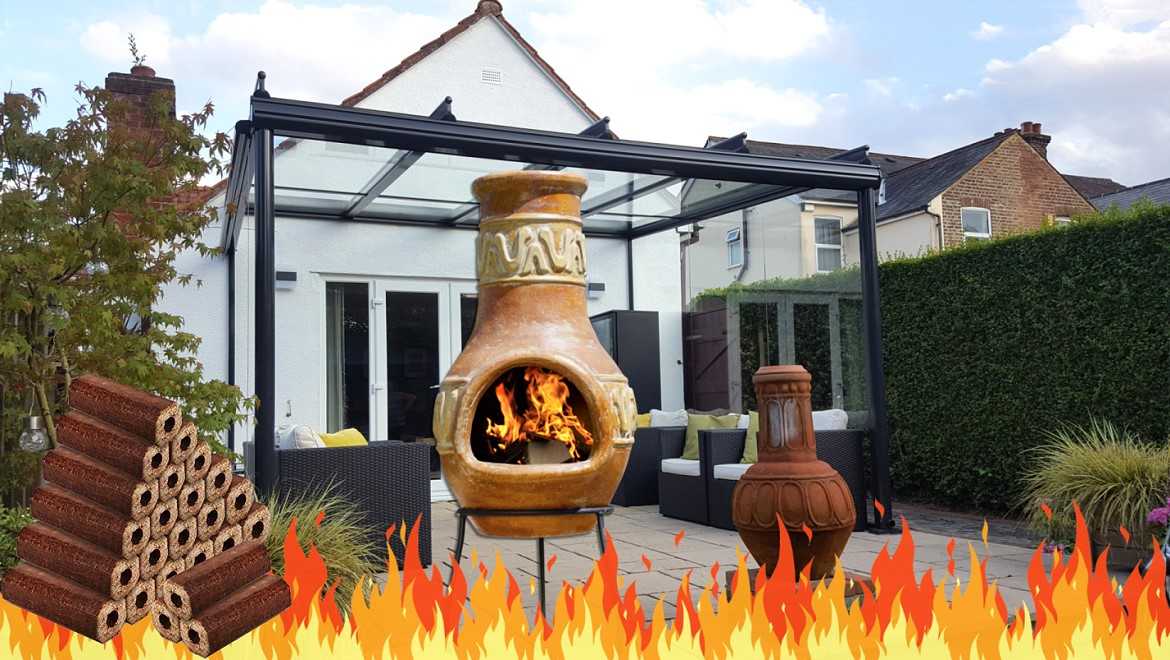 Outdoor Living Fireplace
Fire pits may be all the fashion right now but let's not forget about chimeneas – the original patio fireplace. Outdoor heating that's a fun veranda accessory as autumn approaches.
Our customer Mr Spedding, in Surrey, highly recommends his chimenea. He loves his new Elegant glass veranda, of course, and on being invited to visit him after installation we learned some useful advice about how he heats his terrace during frequent garden parties – outdoor entertaining his friends and neighbours late into the evenings. The glass veranda in point is featured in the photo above, a contemporary gunmetal gray replacing Mr Spedding's previous wooden structure. The new veranda installation even includes a drinks fridge – plus his faithful chimenea sitting center stage.
Getting-Started Advice
Clay models have the best combustion and will burn fuel to a fine ash. Place outside of the glass veranda – you'll feel the heat just fine, and be sure to pour a few inches of sand in the bottom of the chimenea before adding fuel. A sand bed protects the clay from cracking and should remain in place.
Mr Spedding, Derek, recommended Heat Logs for fuel – widely available including online order from Amazon or in DIY stores. Environmentally friendly heat logs are made up of wood from managed forests and recycled timber, cleverly compressed into handy logs. They are easy to light, they burn hot, are clean to handle and burn clean and smokeless – meaning guests won't smell like a bonfire!
Use only dry wood or heat logs, not coal or charcoal which burn too hot damaging the chimenea. When not in use apply the chimney lid, keeping rain out, and use a protective cover over winter. Avoid water logging the clay and don't light your chiminea if noticeably water logged, allow it to dry out naturally under the veranda. Always note manufacturer advice and use common sense with children.
Derek says that just two or three heat logs are enough to warm your glass veranda and adjacent patio during an Alfresco drink or short barbecue, this costing just a couple of pounds. A very long evening might use ten or twelve logs, maybe £7 or £8, but it's all good fun and your veranda party guests will love it.
History
Historically made from fired clay the traditional Mexican chimenea dates back 400 years keeping families warm for hours burning only a few sticks. Originally used for both heating and cooking, outside and inside, they provided evening warmth and in the morning could be used for baking bread. Today they are purely terrace heaters and a quality model can last many years.
Thanks Derek, we love outdoor living too!